Love After Marriage (LAM) Workshop


WEDNESDAY NIGHT DATE NIGHTS with
LOVE AFTER MARRIAGE 1
an 10-week workshop
starting March 1, 2017, 6:00-9:00PM
North Fork Christian Center

About this Workshop
Our goal is to instruct and guide married couples into a relationship characterized by openness, vulnerability and love. During the Love After Marriage (LAM) Workshop, couples have an opportunity through the working of Holy Spirit, to learn and practice how to bring spiritual, emotional and sexual oneness into their relationship.
Participation in this workshop will provide:
Fresh teaching on the basic principles of spiritual, emotional and sexual oneness
Tools to take your marriage to a higher level of intimacy, communication and enjoyment
Opportunities to practice these tools in a small group setting
Breakthrough for struggling marriages
Keys to take even healthy marriages to a higher level
Training and materials available to bring this life-changing ministry into your church
CLICK HERE TO APPLY AND REGISTER ONLINESCHEDULE:
Wednesdays 6:00 – 9pm
QUESTIONS:
Brian & Charity
Email:
bccallis@gmail.com
Call/text:
559-676-2876
---
---
Location:

Oakhurst Branch Library - COMMUNITY ROOM
49044 Civic Circle
Oakhurst, CA 93644
---
Contact: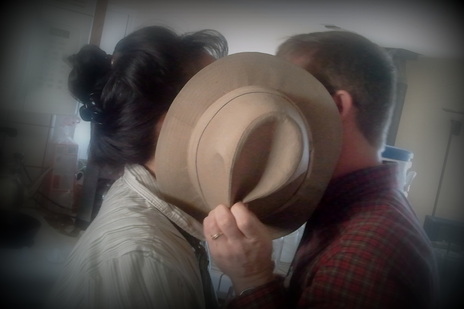 Brian & Charity Callis

(559) 676-2876

bccallis@gmail.com


---
Testimonies:


And they overcame him [Satan]
by the blood of [Jesus] the Lamb AND by the
word of their testimony . . . Rev 12:11
---
---

"LAM will move your marriage from 'tolerating' to 'celebrating'! I thought that was great! Ramon likened marriage to a rowboat, you're excited to be in when you first get married ("It seems so romantic," he said :), but that boat can seem small and confining as the years go by, and can begin to decay and take on water." He stated "LAM helps you build a new boat!" Delores & Ramon, married 41 years


---

Testimony from a friend who participated in LAM this past week:

"INCREDIBLY AMAZING AND TRANSFORMATIONAL!!!!! God shows up and does supernatural things in your own life and your marriage. Hands down best marriage thing we have EVER done! A lifestyle and tools that work!!!!! Highly recommended to everyone I know, you WILL NOT be disappointed!! we will never be the same! praise God for breathing new life!"


---

Had to share an awesome testimony!!! We had a couple that just finished up LAM1 end of June. About 3 weeks before we ended, they came to class with the wife crying and very upset. She couldn't keep a secret from her husband any longer and told him on the way to LAM. I took them aside and we prayed and talked through what just happened. He said if it wasn't for LAM, he wouldn't have stayed. But because of everything he'd learned, he was able to respond in an amazing way. He also owned up to where he lacked in giving her what she needed. The next week was a total transformation in this couple! The wife said he was a totally different person. He's never been any kind of a spiritual leader in their home to her and their teenage girls. She woke up in the middle of the night and found him praying over her and blessing her spirit. It's been so awesome to watch but that's not all, it gets better! We just finished Single Life Workshop last weekend with Justin and Jeremy Byrne (who rock!) and this couple's daughter came through the workshop. She gave her testimony that she wasn't living for God and was a pretty unhappy person. But then she saw her parents start to change which made an impact on her and she wanted the same thing. So she came to SLW and had great breakthough! That was a huge blessing to hear that!!! We had an info meeting Monday night for another LAM we're starting in a couple of weeks. My husband, with tears in his eyes, gave that testimony about how it's not just you and your marriage that gets impacted, but your children too and it continues on. Every couple in that meeting decided to sign up! I really think that testimony was powerful and spoke volumes. God is SO GOOD! I get so excited and energized over stories like these as I know you all do too! Such a blessing to be a part of LAM


---
Below are just SOME video testimonies from the LAM workshop series. If you have 15-min to watch them, we think you will be pleasantly surprised and blessed!
---
[At LAM] We experienced the Holy Spirit in a way we never had before – together.
I didn't know marriage could be like this.
I discovered my wife in a new way.
I became more powerful and began to love stronger as a man.
I saw the woman I married being restored to her joy and true personality.
For far too long, Satan has taken sex and made it something dirty. Satan deceives people into thinking sexuality is a topic for the world, but not for the church. Many Christians have responded by hiding from talking about it at all.
As Barry and Lori brought truth and talked openly about sex, the enemy's powers of perversion and shame were diminished. Husbands and wives throughout the week felt safe to discuss and pray through some very difficult things together — adultery, homosexuality, pornography, sexual abuse, divorce, spouses who hadn't enjoyed sexual intimacy in years. The works of the enemy were exposed and there was no shame.
The atmosphere of grace, power, forgiveness, love, and healing was indescribable. It was like heaven invading our marriages. There is nothing Jesus can't overcome in our lives if we're willing to face it with Him.
For us, though, the week didn't start off easy.
During our 12 hour trip there, Jen and I fought the whole way.
After the first day of the seminar, Jen felt so much anxiety, we considered coming home (by the way, just because you're not feeling "peace", don't immediately assume it's the Lord leading you not to do something. It's possible the enemy is attacking you from committing and fighting through a stronghold in your life. Learn to know the difference.) Jen woke me up at 3:30am to say she wanted to go home. The swirl of emotions and demonic activity was too much. After talking awhile, we finally went back to sleep, deciding to wait until morning. Then I had a dream.
In the dream, Jen was painting a beautiful picture. It was a picture of Jesus. Jesus was standing on the bow of a ship with his arms stretched wide. The waves and the storm were cresting like mountains all around the boat. There was Jesus, the icon of security, peace, and power, telling the storm, "Peace. Be still." And the waves were parting from His very words.It was the most beautiful and powerful painting I'd ever seen. It was like the painting was real, glowing, and emanating power.As I complimented Jen on her painting, she began to doubt herself. She wondered if she really could have painted such a beautiful picture. She called her parents to ask them about it. Her parents began to tell her that she didn't really paint the picture. As she listened to these doubts, the painting of Jesus suddenly began to crumble apart. Then the dream ended.
When I woke up, I immediately felt the Holy Spirit speaking to me.
God conceived Jesus inside of Mary. God gave dreams to Joseph to protect Mary and Jesus. Mary couldn't fulfill her destiny without Joseph. Husbands – we have "Mary's" to protect. Our wives carry something from God that can't be released without us. And we carry something that can't be released without them.
I needed to fight for my wife. I told Jen the dream and she agreed to stay another day. I'm glad we did.
Immediately when we walked in the conference room that morning, something was different. Jen leaned over to me and said, "
What was I thinking? I feel like I was completely under the influence of something that was clouding my thinking."
That day, God began to heal both of us from wounds in our hearts and in our marriage. God gently revealed some significant areas of abuse Jen had experienced as a little girl she had never remembered before. The memories were suppressed. He gently and powerfully brought love and healing to these places.
Jen and my experience of oneness and intimacy soared – spiritual, emotional, and sexual.
Another crazy thing? As Jen and I became more intimate and one in spirit and body, the power of the Holy Spirit began flowing through us TOGETHER.
One night during the gathering, after receiving some healing ministry, the Spirit of the Lord fell on Jen. The Byrne's had Jen come forward. Jen began to call all those in the room who had experienced sexual abuse to stand up if they could and were willing to face it and ask for healing and freedom. Half the room stood. Tears started streaming down faces. Some doubled over weeping. Healing from Jesus started flowing.
The Spirit of the Lord then came on me. I began to call the spouses of those who had been abused to stand up. I challenged them to answer the call to
"Pursue your spouse with the love of Hosea. Then love her like Jesus".
Hosea showed the love of God to a woman who had been abused and broken – to show what the loveof the Father is like for His people. Jesus laid down His crown , His life, His "ministry" — all to show His Bride how committed His love was. He saved His bride and rescued her.
"Go again, love a woman…just like the love of the Lord for the children of Israel…
" (Hosea 3:1)
"Husbands, love your wives, just as Christ loved the church and gave Himself for her."
(Ephesians 5:25)
Husbands are to love like this. That kind of love will change the world.
Later that week, Jen continued to receive words of knowledge and prophetic words for people. Although she'd experienced this before, the Holy Spirit started flowing through her in greater measure as our intimacy strengthened.
One day, a man came forward for some counseling ministry with the Byrne's. He had experienced sexual abuse at the hands of a grandfather. He tried to tell a catholic priest about what happened in confessional. The priest started abusing him, too.
As the man came forward, Jen felt a "punch" in her stomach. She later asked him,
"Do you have stomach problems?"
The man answered,
"I've had stomach problems my whole life."
We laid hands on him and prayed for healing. I believe it happened, though we didn't confirm with him afterward.
I recently watched the movie
Tangled
, an adaption of the Rapunzel story. In the theatre, I felt like I met God. It was like the Holy Spirit was saying,
"This is a prophetic picture of what I want to do in your marriage
." Like the story of
Rapunzel
, I get to lay down my personal agenda to pursue an adventure together greater than either of us could have on our own. My job is to pursue my wife and fight for her freedom — while she finds the courage to let down her hair and let me in her castle.
I don't want a good marriage anymore. I want a supernatural marriage. I am not just married to a flesh and blood woman, I'm married to a supernatural, spiritual woman. She is beautiful. She is complex. She's a mystery and a treasure. She believes in me. I fight for her. The more I love her, the more beautiful and powerful she becomes. The greater the man I become.
We become one.
I want to free Jen to paint a picture of Jesus the world has yet to see.
Erik & Jen's testimony posted on their blog here:
http://erikfish.com/2011/02/28/sex-spirituality-supernatural/
---
"We have been to numerous types of marriage counseling and when we heard about LAM, we were wondering if this would be any different. What God has shown me is that my husband isn't really the problem, it was me who was partnering with the enemy to think, 'oh, nothing going to change' or 'he doesn't care.' I've been wrong." (20 years married)
God granted me the miracle to deliver me from being dominant and manipulative over my husband." (over 40 years married)
I was a believer before LAM. Now after seeing God's transforming power in my marriage and in my family these last few weeks I don't know what I believed before. NOW I truly do believe!

"After 25 years I'm just now realizing that we've not been a praying couple. Before LAM my husband would have his own devotions time, I would have my own devotional time, we would pray as a family, but it was always a challenge to pray and grow spiritually together. This past season, we're now experiencing spiritual oneness in that I'm finding that we delight in praying together now AND it just now flows -- there's no more 'trying' to make it happen."

In one couple, the wife reported that she would get jealous when her husband talked with other people after class each week because in the car he would change and be quiet once they got in the car to drive home. After the class TAKING EVERY THOUGHT CAPTIVE and applying one of the tools that she learned, she said for the first time she wasn't frustrated or jealous when her husband was walking around to talk with others. This was BEFORE they left class that night. THIS WEEK, she said to me...."Do you notice something different? I'm no longer walking with my cane!" Her emotional/spiritual healing brought so much freedom that her physical body responded accordingly. She reported that she and her husband did their homework and she walked WITHOUT her cane throughout the week. It was evidence again that God really knows each of our needs. His presence and Spirit to minister to each couple is so personal.

One couple, married 47 years, was struggling with issues with their adult children. There was so much tension that it would be a challenge to get together as a family. "Only Christmas and Thanksgiving" were the adult children available and even then the parents would have to go to them. Since learning the Blessing Tool, Mama/Papa have been blessing their children through prayer. This Mother's Day was the FIRST TIME both adult children and their families came to the parents to celebrate. It was a good day.

We were talking about Generational Curses when one wife shared that this was her 5th marriage and her husband's 6th marriage! She said that she never thought about generational curses affecting her because her parents were married over 50 years. It was during the session - GETTING RID OF SPIRITUAL BAGGAGE, that she realized, for the first time, that her grandmother had been married 5 times! The Holy Spirit turned on the light inside and planted the seed for something greater.

One couple drove over an hour to be with us and the wife was ready to shoot with both guns sharing all the horrible things about her husband because he's said that he would leave her and the family. With other marriage groups they would always share their garbage and get it all out. They pay for weekly counseling at $80/hour and she wasn't even sure if coming to LAM would even be worth it. After the first exercise asking Jesus what He wanted to show her about her marriage, she started to weep. Holy Spirit told her that her husband loved her and that he's committed to her and her family. The husband got something complimentary from HS saying that he should cherish these times with his wife and family. Thank you Lord! We serve a LIVING GOD!

On their honeymoon, the groom made a comment to his new bride about her tummy protruding (she had just had her period). Being only 95lbs and feeling ashamed the bride vowed to never show her body again to her husband. Now over 30 years later, and after our weekend retreat talking about sexual oneness, the Lord did a miraculous healing in their time of intimacy.